See on Scoop.it – Social-Business-Marketing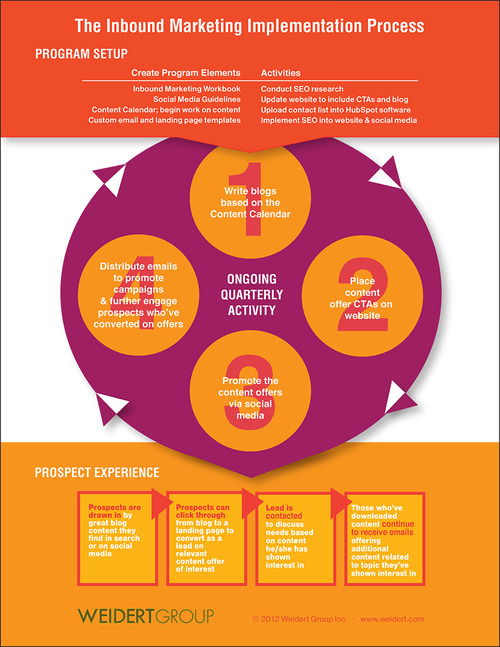 Infographic showing the basics of the Inbound Marketing Implementation Process.
Understanding the power of Inbound Marketing to significantly grow your business is simple; what's more complicated is understanding the process of attracting visitors to your site and turning them into qualified leads:
What steps do you need to take to get started?
What has to be done each day to keep the process moving?
How do you interact with and manage prospects?
While the execution of Inbound Marketing varies somewhat by client, prospect, industry, etc., the Weidert Group created an Infographic can be used to understand:
What work is foundational
What work is ongoing
What your prospects will experience moving through the sales funnel
If you need to step back and get a full overview of Inbound Marketing – what it is, why it works, what steps you need to take to get started – download Weidert Group's
A Step-By-Step Guide to Inbound Marketing. http://bit.ly/Tjm2xh
By Weidert Group . http://bit.ly/PxFP6Z
Download the Inbound Marketing Implementation Process Infographic. [pdf] http://bit.ly/SMa8p5
See on www.weidert.com